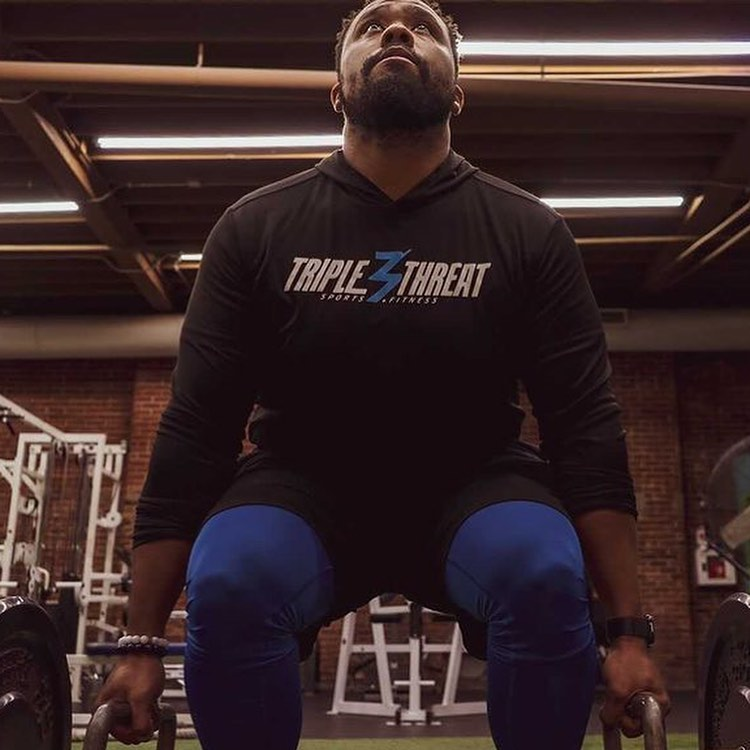 Hello, my name is Nick Johnson and welcome to Triple Threat Sports and Fitness Kansas City, LLC.  I was born and raised in Kansas City, MO. Since I can remember I have always had a love for Sports and Fitness. Growing up I was involved in the competitive sports from the time I was in elementary throughout my collegiate career. Throughout that time I was blessed to work with different fitness professionals who specialized in sports performance. After finishing his playing career I got into the field of physical education and have been working in the education field for 10 years. Through the duration of that period I have worked with students athletes of all ages from middle school to college to ensure that they are prepared for the next level, whatever that may be.
By working in non profits and other programs through my youth I developed a love for mentoring younger students and always giving back. To me education is the essential to student athletes. As I progressed through high school, college, and my post graduate career being a top student was just as important as being a top athlete. This way of thinking is also expected of T3 Student Athletes. 
My belief is that everyone has the opportunity to reach their goals. It doesn't matter how big or small the goal is, it can be accomplished. When you acquire me as a trainer you know exactly what you are getting. You are getting someone who is reliable, consistent, a hard worker, and someone who will always push you towards your goals. I believe that the key is to make sure that you consistently work towards each goal and eventually it will become a reality. Success to me is something that is possible for everyone as long as we are willing to put in the work for it.
Sports Performance Training
(Focus on the Body)
We focus on enhancing the bodies of our athletes through targeted Sports Performance Training (SPT) that is focused on improving the overall athletic performance of each student. Each member will create their own SPT goals in collaboration with a certified professional. Our T3 SPT goals are focused on the following: agility enhancement, change of direction, balance and coordination, speed mechanics, explosiveness, power, and overall strength improvement.
Tutoring and ACT/SAT Prep classes
(Focus on the Mind)
It is important to us at T3 to ensure that no matter what college or university our student athletes choose to attend, that they have the necessary skills to manage their college course load and successfully complete all academic requirements in order to graduate. We build on our athlete's academic skills, brick by brick, through targeting tutoring in the areas of strategic reading, writing and composition skills, as well as mathematics. We also provide ACT/SAT prep classes so that every T3 athlete will understand the content of these pre-collegiate entrance exams, how to properly study for optimum success, and achieve the appropriate score that will help them with entrance at their chosen college/university as well as the NCAA or NAIA clearinghouse.
Mentoring
(Focus on the Soul)
We want our students to not only be great athletes but also successful citizens that are equipped to handle the challenges of society in an uncertain and ever changing world. We provide community based mentoring to help our athletes make wise choices that will help them to achieve success and not setbacks. T3's mentoring structure is designed to help our athletes to be problem-solvers no matter what situation they may be in. Our Personal Development mentoring pillars are Leadership, Organization, Communication, Integrity, and Work Ethic. We want all of our athletes to grow and excel in these areas while involved with our program. Our mentoring curriculum will be delivered through both one-on-one and group settings to instill T3 athletes with everything that they need to know in order to transition from healthy students to healthy adults that are focused, goal driven, and self-sufficient.
1 on 1 Training
Whether you are starting your fitness journey, an athlete looking to get back in shape or just looking for someone to push you to the next level, having a one on one personal training session can help you meet your goals. With one on one training sessions you receive a personal experience that is tailored to your goals and needs. T3 creates each plan to ensure it is unique to fit not only your schedule, but also one your fitness lifestyle. We do our best to ensure that each client experiences a positive environment that motivates you to do your best. T3 meets clients where they are regardless of their skill level. Each session is structured to progress clients towards their goals Brick By Brick. Contact us today to help you get started on your fitness journey.
Group Training
Don't feel like working out alone? Want to bring a friend or family member to take this journey with you? Then Group training with T3 is the route for you. Our small group training sessions provide an atmosphere where all of us are working together to reach a common goal. In group sessions clients motivate and push each other to stay committed throughout the process. Group sessions are fun, engaging, and challenging for everyone who participates in them. Group sessions will last approximately 60 minutes per session. Small group training sessions can start with two clients and hold a maximum of six participants. This smaller number keeps the sessions personable and ensures every client receives the attention they need to be successful. Working in a group creates a family setting and saves you money as in the process. Contact us today to get your Small Group Training started today!
Virtual Training
Can't make it to T3? We will bring T3 Training to you! Through our virtual training program T3 can still create a program that fits all of your fitness needs. Virtual training sessions allow us to facilitate your workouts whether you are in a gym or in the comfort of your own home. Through these sessions we can motivate, correct form, and even demonstrate proper technique throughout an entire workout. Virtual Training Sessions can range from 30 minutes to an hour, and are tailored to fit your schedule. Contact T3 now to get your Virtual Training Plan scheduled today!